Introduction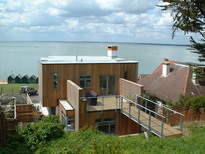 We are a firm of Consulting Civil and Structural Engineers with considerable experience in the design of a variety of private, commercial and public building projects.
We believe in working as a team with all the parties involved in a project to ensure we are all going in the right direction regarding targets, design information, costs and completion dates.
With our in-house property database built up over the last 30 years we are in an enviable position to draw on our previous knowledge and expertise to assist clients on their property or development. This often can prove to be invaluable. With our local knowledge and up-to-date computer design facilities we are able to offer an efficient and valued structural and civil engineering service.
Whether you are proposing to remove a load bearing wall, carry out alteration works, construct a one-off dwelling, or build a housing estate, consulting us as your structural engineers at an early stage could prove to be vital.
Our experience over recent years on Partnering or Framework projects with Isle of Wight Council, Contractors and Housing Associations has shown that our early appointment on these projects were crucial in order to advise on all aspects of construction from initial appraisal of the site to full design, site meetings and inspections.